Celebrating 5 Years of Summers in Cambridge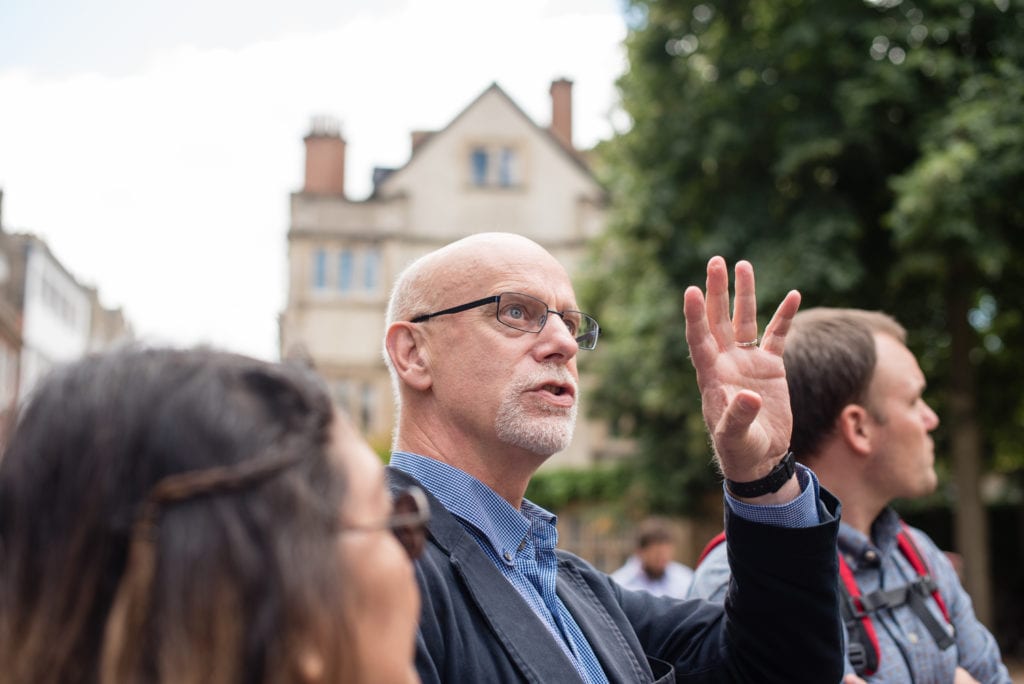 Our fifth "Newbigin Summer Institute" was held in Cambridge this July. After last year's gathering at Westminster College, we were back at Trinity Hall right in the middle of the historic university city. Once again, we were wonderfully hosted in this beautiful, old, and iconic setting just by the river. Lectures were held in the ground floor of the 16th century library, morning worship in the college's intimate chapel, and buffet meals and afternoon drinks were served in a reception room in the front court, or outside in the college gardens.
Our title for this year's Institute was "Jesus and the World's Faiths," a prominent theme in the writings of Newbigin, whose tone and approach we wanted to highlight as particularly appropriate for our day. We were stimulated by some wonderful multi-cultural input from a variety of speakers. There was of course exposition of Newbigin's own work, but also some rich insights into our own contexts (Peter Choi), as well as ways of moving beyond stereotype and into hospitality (Muthuraj Swamy), as well as sharing lives with those of other faiths (Carol Walker).
Another highlight was Shirin Shafie's moving testimony to her own faith as a Muslim, and yet her profound respect for Lesslie Newbigin, whose thought on how to live out faith in the public sphere had inspired and challenged her in her own faith. Here seemed to be a standout theme of the conference. The subject matter was perhaps riskier than in previous years, but Shirin, along with the other speakers, opened up a rich approach to inter-faith dialog by modeling it for us all in a way that was typical of Newbigin himself. Altogether, we learnt more together about what it means to hold onto the faith we have been given, but at the same time be genuinely open to what God may want us to receive from others.
It goes without saying of course that the food and friendships were wonderful. As last year, we had a couple of afternoon public lectures in larger venues in Cambridge, with Professors David Ford and Miroslav Volf more than filling the bill. And what a variety of attendees at the Institute itself! Coming from a broad range of backgrounds and contexts, this diversity was especially rich, and many commented on it. I think this is part of the attraction of Newbigin's contribution: drawing people together who want to grow together generously in mission. And, as always, he still has that knack of stimulating, intercepting, and sometimes disrupting our thinking—wherever we're from, and whichever direction we're headed.