The Gospel and 'Black Lives Matter': A Conversation with Lisa Sharon Harper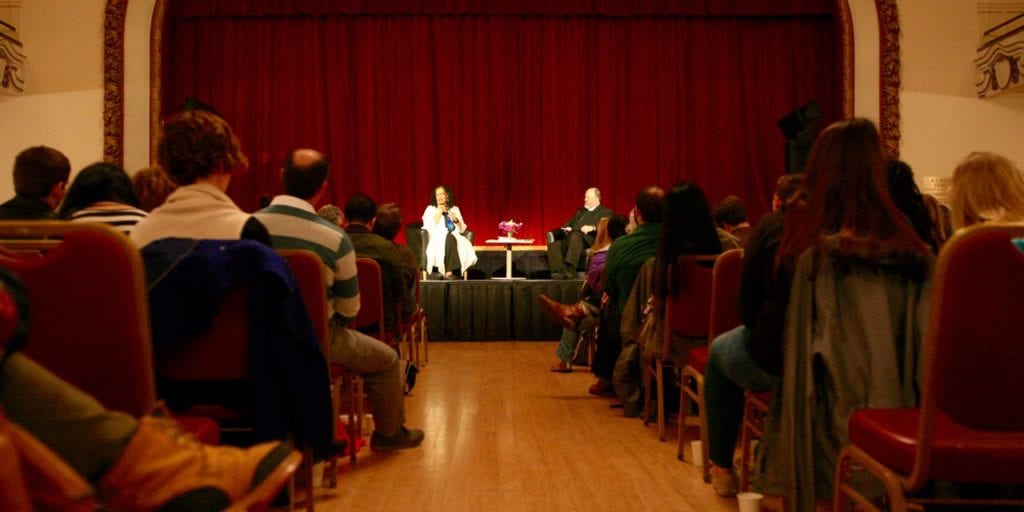 by guest writer, Laura Turner
Back in 1971, a group of students who were frustrated by their school's lack of engagement in the civil rights movement banned together. Their professors at Trinity Evangelical Divinity School outside Chicago weren't addressing issues of social justice, so the students gathered together and protested the administration's actions, acknowledging that "we must repent if the world is to be healed." Thus, Sojourners was born.
Lisa Sharon Harper is the Chief Church Engagement Officer of Sojourners, connecting churches around the country with the advocacy and justice work that Sojourners does from their offices in Washington, D.C. She is also, as we learned, a gifted preacher and communicator. As she spoke to the gathered crowd at the Russian Center last week, she talked about her calling to work with white evangelicals to pursue justice after Michael Brown's shooting death in Ferguson, MO. It wasn't just a vague sense of justice that moved Harper, though, it was a rootedness in the creation of human beings as diving images of God, as we read in Genesis 1:26-27:
Then God said, "Let us make humankind in our image, according to our likeness; and let them have dominion over the fish of the sea, and over the birds of the air, and over the cattle, and over all the wild animals of the earth, and over every creeping thing that creeps upon the earth." So God created humankind in his image, in the image of God he created them; male and female he created them.
The challenge in reading a passage like this, Harper remarked, is that it is easy to assume that the people who most bear God's image are the people who look most like us. Especially for people who have experienced white privilege most of their lives, the call to follow can be hard to hear. Harper recounted one meeting in Ferguson in which a white man–a leader in a local chapter of InterVarsity–confessed aloud that "it never even occurred to me to go to Ferguson and follow the lead of the people there." One of the ways we see "Black Lives Matter" through the lens of the cross is to ask questions of the people who are in the center of pain and oppression. Too often, the American church has centered whiteness, Harper said. In doing so, it abandoned people of color.
In many ways, we read the story of the Tower of Babel as a time in which God created confusion among overly ambitious people-groups. This is true, to be sure, but it was also a place where God created ethnic groups, which sowed confusion and led to the creation of these four categories:
Race – A man-made category, not from God
Ethnicity – Created by God when people scattered at Babel and went all over the world
Culture – Beloved by God at its best, and comes from the land people inhabit
Nationality – Essentially, what's on your passport
As a man-made category, race was created to determine who of the polis, the people, is able to exercise dominion in the land. The ability to exercise dominion is something every human being possesses, but not every human being can use. It was Plato who first talked about the racialization of power, and ever since then there have been races who were considered better able to exercise dominion than others. The Church didn't do much better; two Papal Bulls in the 1450s allowed for the ability seize uncivilized lands and enslave local people. These mandates laid the groundwork that allowed slavery to become a global scourge. Through the coming centuries, African people were forcibly removed from their homes and enslaved, thought to be less than a full person, and fought prejudice that was written into our laws. That bias has now become implicit, but it remains, and it is naive to think it will go away overnight. That is what "Black Lives Matter" is all about–centering the national conversation around justice.
The black church was at the hub of the civil rights movement in the 1960s, Harper reminded us, and the young people who get the brunt of injustice are still trying to figure out their place. The church has too often excluded them; now, it is time for us to welcome them. Racial justice means "dismantling the structures that were build by race and returning to ethnicity and God-given culture" as the operating framework of our society.
Now, in the light of this new age, we need more than ever to heed the Biblical admonition to "take every thought captive." We can become aware of our own implicit biases (resources like the Harvard Implicit Association Test are available for this purpose). We can immerse ourselves in communities that are not like our own–white people can visit all-black churches, protest with their black brothers and sisters, and visit places where they are not in the majority, for instance. And we can become accomplices in the movement that says Black Lives Matter–we can show up to any movement that fights against systems that keep people of color down. As we do that, we are exercising dominion alongside our brothers and sisters who have, for so long, been unable to fully express the image of God within them.
[title text="Audio" style="center"]
[soundcloud url="https://api.soundcloud.com/tracks/251896726″ params="color=ff5500&inverse=false&auto_play=false&show_user=true" width="100%" height="20″ iframe="true"]
[divider width="full"]
[row]
[col span="1/1″]

[/col]
[/row]