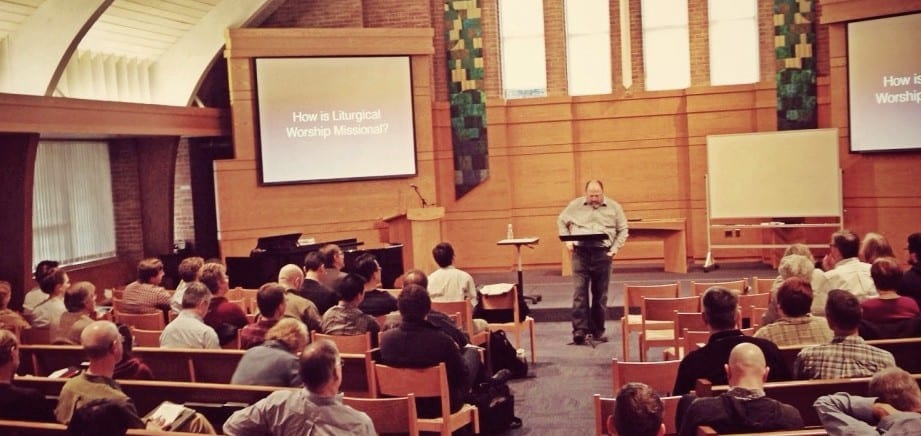 This past week I was so delighted to see Newbigin House of Studies in action. We joined with a few other organizations to sponsor a conference held at Calvin Theological Seminary in Grand Rapids. The theme of the conference focused on how to read the Bible through a missional lens, that is, not just looking to the Bible as a "how to" answer book, but as the true story of the world's redemption, and as a guide to discovering our place in the story. There were some very eminent keynote speakers—the New Testament scholar N.T. Wright, Old Testament scholar Christopher J.H. Wright and theologian Darrell Guder. But I was especially pleased to see the place that Newbigin scholars had at the table: Michael Goheen talked about preaching and the missional story; Chuck DeGroat spoke on the topic of missional spirituality; and I presented on the topic of missional worship. Those three topics epitomize for me the missionary niche that is being established here at NHS. Whether we are talking about the Newbigin Fellows here in San Francisco, or the students around the country enrolled in graduate-level theological training, we are bringing theology and mission together.
Chuck DeGroat speaking on missional spirituality
Scot Sherman facilitating a panel discussion
I could tell you more stories! I have been privileged to participate in similar missional conversations over the last several months in places as far afield as the French Riviera and Geneva, Switzerland, and just last month at the Reformed Communion Conference in Atlanta. Everywhere I go I have conversations with people who are thrilled by what NHS represents:  the coming together of the church and the seminary to get serious about training leaders for ministry in a post-Christian context.
Want to get a taste of some of what we do?  Here's a public conversation I hosted here in San Francisco with Wes Granberg-Michaelson discussing the changing future of global Christianity and its impact on North America. Click here if you'd like to listen.
Scot Sherman & Wesley Granberg-Michaelson
This newsletter will update you on some exciting developments—a new degree program at Western Theological Seminary launching next Fall, and some exciting conferences this Summer. As you read, I hope you will join us in giving thanks to the Lord that Newbigin House is being established! This would not be remotely possible without you. Thank you for your prayers, for your much needed financial gifts, and thank you for recommending us to prospective students. I know we are just a start-up, but I hope we are earning your confidence and trust. 
Have questions? Call or email me. Want to visit San Francisco and see what all the fuss is about? Consider coming out to our conference this June! We'd love to see you.
Rev. Dr. Scot Sherman